Services by Doula Nikko
I teach smart mamas and mamas-to-be how to optimize circadian rhythms for fertility, pregnancy, and birth. Postpartum, I offer support and guidance in raising families with robust circadian rhythms.
Besides creating content for you here at Brighter Days, Darker Nights, I also support families as a doula.
In this capacity, I provide emotional and intellectual support around all issues fertility, conception, pregnancy, birth, postpartum, and breastfeeding. I was first trained by Kimberly Bepler of ABCDoula in PDX.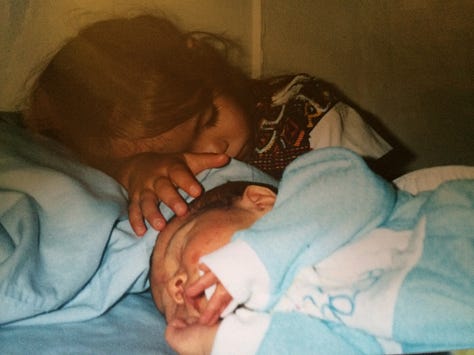 My first decade as a doula was spent supporting friends and family, while I myself went through my early years as a mother. After health challenges gifted me the seeking that led to discovering circadian rythms and the power of light to heal, I started Brighter Days, Darker Nights and reworked my doula offerings to reflect this new, evidence-based model for circadian pregnancy and postpartum care. I still offer traditional birth and postpartum doula services both virtually and in-person in Josephine County, Oregon. I now also write this publication and teach workshops to fast-track mamas into healthier circadian habits for themselves and their families.
My focus on supporting circadian rhythms is new, but fits perfectly into the ultimate mission I have always had for my work as a doula:
Help you LOVE and TREASURE all parts of your motherhood experience. No matter the outcome, going through the very acts of trying to conceive, becoming pregnant, giving birth, and caring for a newborn are each transformative experiences in their own rights. You become a new person on the other side of each of these thresholds. Having doula support improves mothers' satisfaction, regardless of outcomes.

Support you in avoiding (or navigating) postpartum depression. The challenges of the postpartum period can induce depression, or exacerbate previous depressions. Having doula support reduces the incidence of postpartum depression.
If you fail to conceive, have a miscarriage or a stillbirth, I will still support you in these same ways. These experiences are also motherhood experiences!
Submit your inquiry for a complimentary Circadian Lifestyle Evaluation:
To get clarity on where you are at with your circadian wellness and how you can further use this wisdom to support your conception, pregnancy and/or postpartum journey, please email me some quick responses to the following questions. This will serve as your application for a complimentary circadian lifestyle evaluation call:
What are you looking for in this pregnancy or postpartum as a whole?

What do you want to learn from me?
Alternatively, if you are a provider seeking this information in order to help your clients, please also email me through the link below describing what you would like to learn and how you think it could help your clients.
Credentials:
I am a CAPPA-trained postpartum doula with a B.S. in General Science (pre-med with focus on biology and psychology) from the University of Oregon. At present, I am pursuing the Applied Quantum Biology Level 1 Certification from the Quantum Biology Collective and am working towards becoming certified as a Traditional Health Worker (THW) Birth Doula in order to better serve you. The THW designation will give me the ability to bill Medicaid and Oregon Health Plan insurance policies for birth doula services (coming soon, hopefully towards the end of 2023). Keep in mind that certification is not required to deliver doula services privately in Oregon, only to bill insurance. Additionally, doulas provide social, emotional, intellectual, and physical support that can in no way be construed as medical advice. For any medical concerns, please see your primary care practitioner or other qualified health professional.